The USS Fitzgerald returns to its former home port in Japan for the first time since its fatal collision
NAVAL BASE YOKOSUKA, Japan — The USS Fitzgerald entered Tokyo Bay on Friday, the guided-missile destroyer's first visit to its former homeport since departing more than four years ago, badly damaged by a collision that killed seven sailors.
The Fitzgerald's return to Yokosuka is for a routine port call, said Task Force 71 spokesman Lt. Cmdr. Joe Keiley told Stars and Stripes in an email Friday.
He declined to comment on the length of the ship's stay due to operational security, but said his crew could use base facilities in accordance with COVID-19 mitigation procedures set out by U.S. Forces Japan.
The Fitzgerald departed Naval Base San Diego, where it has been based since 2020, on Jan. 3 as part of the carrier strike group USS Abraham Lincoln, according to the Navy. The group has since been operating in the Western Pacific.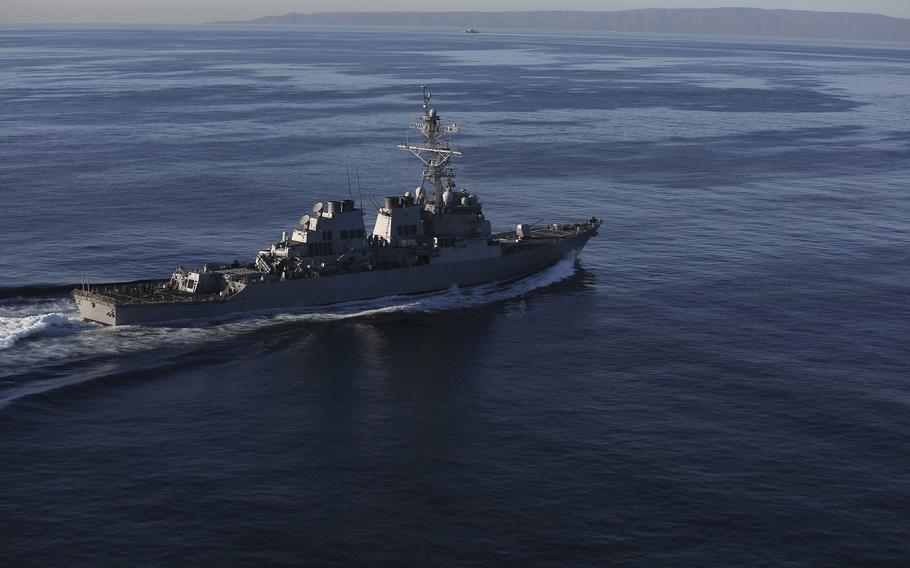 The USS Fitzgerald guided-missile destroyer sails in the Pacific Ocean, Nov. 13, 2021. (Thaddeus Berry/US Navy)
On June 17, 2017, the Fitzgerald was sailing off the coast of Japan, about 64 miles southwest of Yokosuka, when it collided with the Philippine-flagged freighter ACX Crystal.
The accident caused significant damage to the destroyer's superstructure and hull. A large puncture below the waterline flooded three compartments and the captain's cabin was destroyed.
A Navy investigation into the collision cited crew exhaustion, skipped certifications, poor oversight, and training and manning issues among the causes of the collision, which the report found preventable.
Navy officials eventually relieved the ship's two senior officers and a senior enlisted sailor, while also holding numerous officers and enlisted overseers responsible for the accident.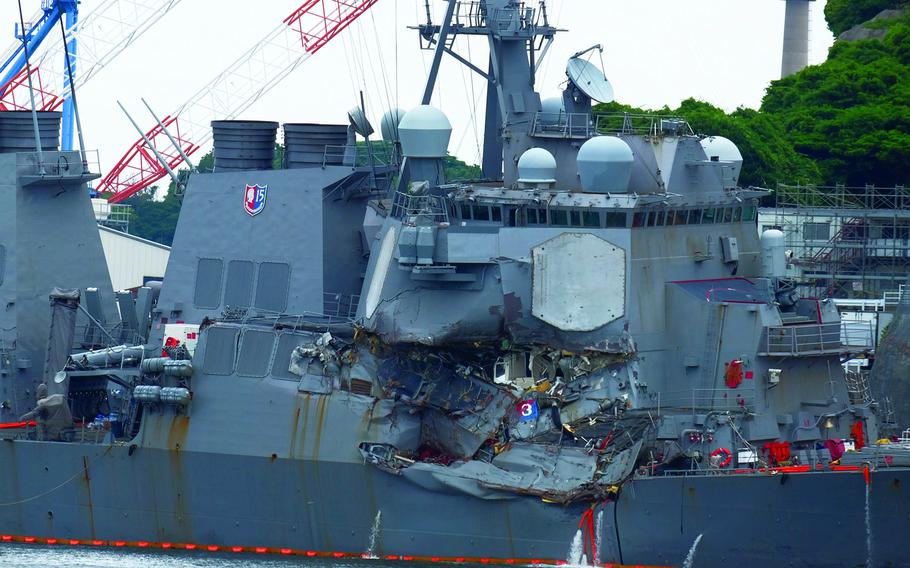 The incident was one of two 7th Fleet destroyer collisions that summer. On August 21, 2017, 10 sailors died aboard the USS John S. McCain when it struck a Liberian-flagged commercial vessel in the Straits of Malacca near Singapore.
In the days following her collision, the Fitzgerald was moved to a Yokosuka drydock to assess the damage.
In November 2017, tugs took the vessel into deep water and connected it to the heavy lift vessel MV Transshelf for transport to the United States. However, the Fitzgerald was further damaged when her hull was punctured by the Transshelf's steel support structure.
The Fitzgerald finally left Yokosuka aboard the Transshelf on December 9, 2017, and was taken to a shipyard in Pascagoula, Mississippi, for $523 million in repairs and upgrades.
In June 2020, a refurbished Fitzgerald set sail to join the Pacific Fleet in her new home port of San Diego.